Another blog post about a gig I went to! Hurrah! My friendo Z and I went to see Death by Denim this Friday – a sweet way to start the weekend off. This week has been bloody exhausting. Jesus christ. Pro tip: if you're stressed out, have a boogie and get it out of your system (ideally to a groovy band, but otherwise wherever the heck you want).
Death by Denim are a an indie rock band straight outta the burbs of Perth. There's Nik (lead vocals/guitar), Palle (lead guitar, backing vocals), George (bass guitar, keys, backing vocals) and Hamish (drums). Their vibe is kinda psychedelic-synthy-fuzzy-groovy-pop. If any of those sounds adjectives tickle your fancy, give them a listen! Their latest album came out at the end of last year but I think this was the first time they had performed the songs so it was pretty exciting.
BTW! My bad but Z and I weren't quite able to make the first support act, Fomi! Sorry! But I had a little listen and I really like her! She's from Brissy. Very dreamy. A bit edgy. I like her song Asshole. Speaks for itself. No but for real it's a good song.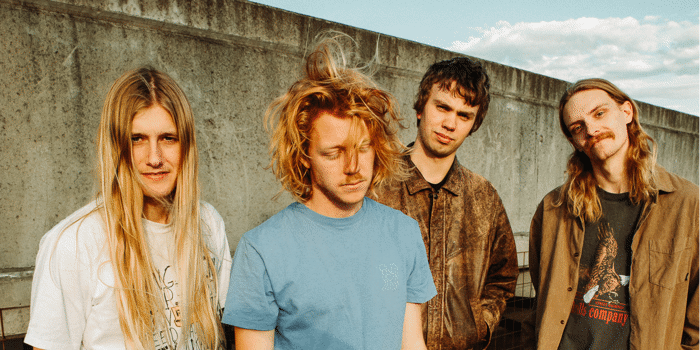 The Moving Stills were supporting Death by Denim and I gotta say they're one of new fav bands. I saw them at Spacey Jane a lil while ago and really liked them so I was stoked to hear that they were supporting! I really love their energy (and their hair) on stage. I talked more about them in that post but basically they're a really cool band from central coast of NSW that play surfy-rock-pop-alt vibes (my fav kinda vibe). Listen to them! They're also going on tour soon so defs go if you can (go on their website to see when/where)! Their latest release is Downlown which is a banger but ofc Nineteen is my fav and I just put Stick Around in my playlist. Do what you want with that information.
Death by Denim had a really confident presence on stage and totally feeling themselves (as they should). The lead singer Nik totally reminds me of David Le'aupepe from Gang of Youths onstage – dancing + the hair. The crowd was loving it. I was loving it. The tall buff, kinda weird vibed guy in front of me (you might be able to see one of his biceps in the clips) was absolutely frothing it. They played some songs off their latest album like Homemade and Golden Morning. Then some of their classics like Wiggy (the grooviest song out I LOVE IT, one of my fav songs to have a good ol groove to), Cigarettes and Honey (a classic) and Caged. Check them out on Instagram or Facebook because they said they're gonna be releasing a new song soon! I can't remember when. Soon! Keep ya eyes peeled.
Such a good night!
clara x 2021